Usually, I write about is IT, especially testing and quality assurance. Since I consult mainly in the banking industry, I am also interested in new developments in this industry sector. On my last trip to the US, I was curious how banks present their offerings in the display windows branches. I made some pictures in New York, which I want to share with you.
Their promise is to ease their customers' life, e.g., with guaranteed reaction times for loans or helping them getting a better overview about their personal financial matters (sorry for the bad picture).
Easing their custmers' life, this fits very well to their ads for their mobile banking.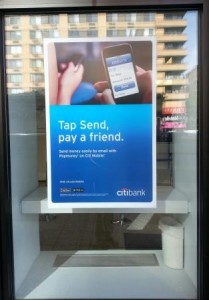 The bank might not be known around the world, but their unique selling Proposition is easy to understand. They want to be the most convenient bank. Each advertisement stresses this.
Open seven days a week…

…long opening hours…
…various channels…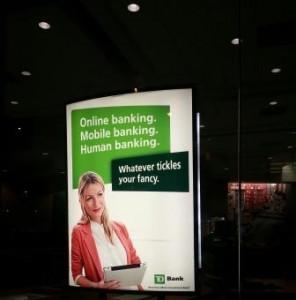 Another small gesture:

I did not see any eye-catching ads. However, it is interesting how they market their self-service terminals. They do not mention cost saving opportunities for them or their customers. They call it express banking. Nice idea.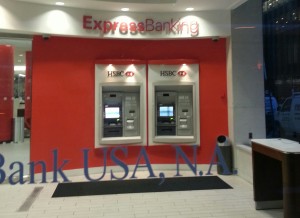 Another large bank, many good ideas, but they do not get a consistent message such as the TD bank. They want to connect with their customers. They state it and add some un-perfect looking snapshots. The terminology reminds me of social media though their initiative is not relate to Facebook, Twitter or something similar.


Interesting is that they offer a QR link.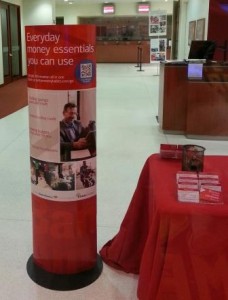 They offer mobile Banking apps. In contrast to Citi Bank, it is not 100% clear how this offer relates to their overall strategy…

A nice way to show their customers the various branches and ATMs in the neighborhood…

Traditional Banks
The photos above show innovative ideas. Others Banks are more conservative. I also added some photos here so stress the difference. The Sovereign bank has a colorful design, but nothing to remember.

The Berkshire Bank is proud of their 25 years history and emphasis their interest rates. That is quite traditional marketing.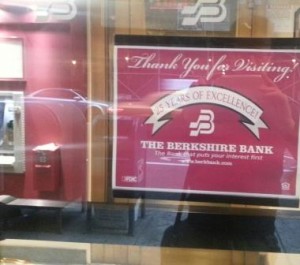 Capital One makes a quite repelling impression.

But cetainly, good marketing (alone) does not mean to be successful …
How do you think about the marketing of these banks? Did you see anything interesting somewhere else?
First published: June 1st, 2013